An Enchanting Musical Journey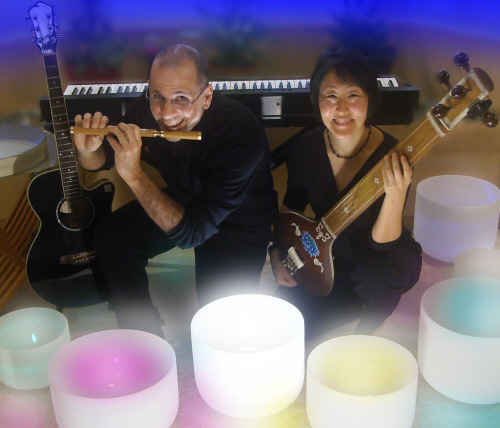 IMMERSE YOURSELF...
Take an amazing journey within as you experience a multi-instrumental, spine-tingling event that relaxes the mind, soothes the body, and nourishes the soul. Let us customize an uplifting program for your group, or join us for one of our popular 90-minute programs. Experience:
* The Himalayan Singing Bowl resounding a warm welcome to all participants...
* Whole Body Tuned Pipes sending a healing peace throughout your entire body...
* A slice of Community Qigong stimulating your own flow of life force energy, escorted by the Ocean Drum and Rainstick...
* The Flute, Tambura, Guitar and Chimes crafting a meditative mood for you to bathe in...
* Guided Meditation with Piano helping you to open the doorways into your infinitely creative Higher Self...
* An Affirming Chant celebrating your whole being...
* Quartz Crystal Singing Bowls tuning and balancing your 7 Energy Centers (chakras)...
* And a sweet soulful clebration of singing bowls to climax the event...

Bring resonance to your whole person. Join composer/multi-instrumentalist Ross Anthony with yoga / tai-chi / qigong / spiritual instructor Jasmine Grace on an enchanting, inspirational, musical journey!